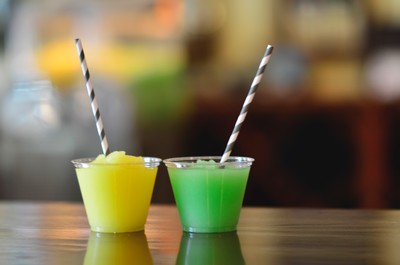 The Georgia Winery would love to invite everyone into our tasting room to sample and enjoy our delightful wine slushies. However, if you don't have time to hang around, you can grab a slushy mix and your favorite Georgia Winery wine and make them yourself at home! It is so easy. Choose from the following flavors of slushy mix: Pina Colada, Peach Bellini, White Sangria, Sangria, Strawberry, Margarita, and Blueberry Pomegrante.
Pour your favorite Georgia Winery wine into your choice of wine slushie mixes.
Fill your wine bottle up with water, and pour into your mix.
SHAKE, SHAKE, SHAKE! Make sure all of the mix is shaken up really well and you have a liquid.
Freeze the bag for 4-6 hours.
ENJOY!
Recent Posts
April 23, 2017

December 29, 2016

December 16, 2016

November 21, 2016

November 2, 2016

July 13, 2016

July 11, 2016

May 5, 2016

May 4, 2016

December 29, 2015
Blog Categories
Our Writers
Blog Archives