May 5, 2016 | Marketing | Layne Ford
May Slushies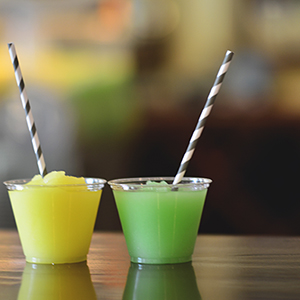 Wine Slushy recipies and food pairings!
Slushy Recipe:
1 Bottle of wine
1 Bag of slushy mix
3 Cups of water
Shake.
Freeze for 4-6 hours.
Enjoy!
Piña Colada + Piña Colada Mix
Pair with Teriyaki Chicken
Niagara + Margarita Mix
Pair with Steak Fajitas
Blueberry Blush + Pomegranate Mix
Pair with Cheesecake
Strawberry + Strawberry Mix
Pair with Dark Chocolate
Southern Sangria + Sangria Mix
Pair with Blue Cheese Crusted Steak
Georgia on my Mind + Peach Bellini
Pair with Crab Cakes
Our featured slushies for May are Piña Colada + Piña Colada Mix and Niagara + Margarita Mix. The perfect drinks to celebrate Cinco de Mayo with! Stop by the store and try them!
Comments
Commenting has been turned off.
Recent Posts
April 23, 2017

December 29, 2016

December 16, 2016

November 21, 2016

November 2, 2016

July 13, 2016

July 11, 2016

May 5, 2016

May 4, 2016

December 29, 2015
Blog Categories
Our Writers
Blog Archives