Do you love Georgia Winery Wines?
Join the Wine Club and enjoy a variety of our wines
for as low as $11.95 Quarterly (12 bottles) or
$12.95 (3 or 6 bottles)!
Reward your love of great wine and good times!
Wine Club Member Benefits
No Membership Fees
Convenient delivery or pick up option
The option to choose your favorite Georgia Winery Wines
10% discount on wine bottle purchases every time you shop (online or in-store) and 20% off cases (12+ bottles)
Quarterly Newsletter with special discounts and goodies exclusive to Wine Club Members
No cancellation fee unless you cancel before 4 consecutive quarters
Enjoy our wines for as low as $11.95 each for 12 bottles/ $12.95 for 3 or 6 bottles! There are upcharges for wines priced at $17.95 and above.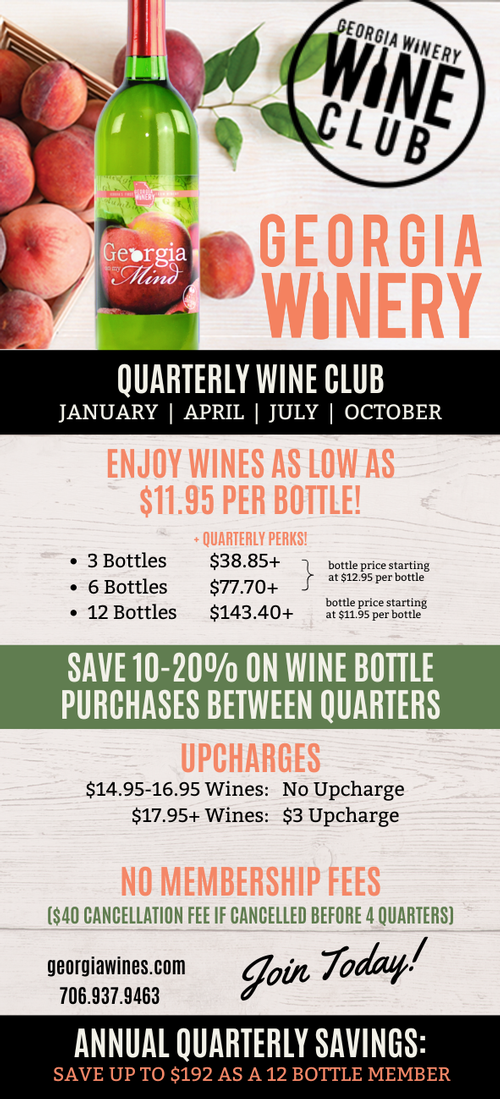 Selecting Your Wines
Shipping: Call or email us each quarter to pick your wines or we can choose the wines for you from our sweet selection- called Winemaker's Choice. Updates must be completed by the 25th day of the month prior. If a wine you elected to receive for the particular quarter is out of stock, we will send you Winemaker's Choice in its place.
Pick Up: Those who elect to receive their quarterly wines in store, may select their wines upon arrival.
Receiving Your Wines
An email will be sent to you prior to your Wine Club quarter date as a courtesy reminder of your billing period. Be sure to read our emails so you are aware of any changes or wine updates! Wines will be available for in-store pick up on the 1st day of the quarterly month. Shipments will be sent on the 7th, or next business day, of the quarterly month.

Shipment: Wines will arrive via UPS in 3-5 business days and cannot be shipped to a P.O. Box. If your delivery is missed, UPS will attempt a total of three times.
Georgia Winery is not responsible for any returned packages. All shipments require an adult signature upon delivery.
Due to state laws, we cannot ship to the following states: AK, DE, HI, IA, MA, MO, MS, ND, NE, NH, NM, PA, RI, SD, UT, VT.
Charges
Members enjoy the convenience of automatic payments for Wine Club.
The credit card provided will be charged after we close the last day of the month prior to the Wine Club Month based on the quantity selected plus applicable tax and/or shipping charges. By enrolling, Georgia Winery is authorized to bill your credit card quarterly for these charges.
Updates: A selection of our wines will be available at $11.95 or $12.95 quarterly. There are upcharges for wines that retail for $17.95 and above. Pick up Wine Club Members will automatically be charged the $12.95 pricing for 3/6 bottles or $11.95 for 12 bottles. When you come into the winery and select your wines, that is when you would pay any upcharges, if applicable. If you are a Shipping Wine Club Member, you will be charged for the wines you have selected for shipping.
No Upcharge- $13.95-$16.95 Wines: Wines included are Chattanooga Blush, Concord, Blackberry Blush, Blueberry Blush, Georgia on my Mind, Muscadine, Southern Blush, Southern Sangria, Tailgate Red, Tara Bella, Cherokee Rose' and Cranberry Blush.
$3 Upcharge- $17.95-$21.95 Wines: Wines included are Bulldog Red, Blackberry, Backyard Blend, Blueberry, Blueberry Merlot, Riesling, Homestead Red and Merlot.
Account Updates
All changes to your wine club account have to be made before the 25th of the month prior to the quarter.
These changes include: credit card information, shipping address, wine selections, bottle amounts, etc.
Give us a call, email us, or come into the tasting room in order to view or change your information.
Cancellation
You can cancel your membership at any time. If you cancel prior to 4 quarters, then you will be charged a $40 termination fee.
Call 706.937.WINE for assistance or email wineclub@georgiawines.com
How to Join
Simply come into the winery or give us a call at 706.937.9463 and choose from the 3, 6, or 12 bottle Wine Club options. Join today and receive 10% off your order or 20% if you purchase a case (12+ bottles)!