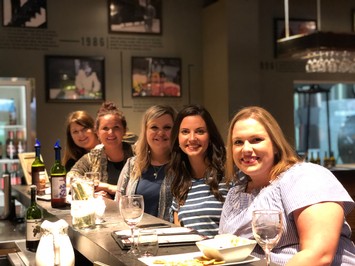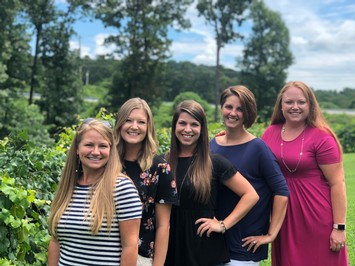 Groups
We do request advance notice for groups larger than 6 by filling out the form below.
Reservations are for groups of 6-16 and anything less than 6 people can walk in.
If you want to book a reservation and have a table reserved for your group, you must prepay! If you aren't looking to book a reservation and just giving us a heads up that you're coming but as a walk-in, then you do not prepay.
Please let us know if your group is interested in Tastings, Saturday Tours, and/or Appetizers. We ask that you kindly let us know at least 2 business days prior to your visit. For Large groups, please let us know well in advance. By filling out the form below we can better prepare for your visit; however, we only accept reservations for Wine Flights. Tastings and seating (other than Wine Flights) are both available on a first come, first served basis. We do not allow outside food or beverages. Our lounge space is not available to rent out for private events.
Tastings
We offer free Wine Tastings every day!
You can try up to 5 wines of your choice during your free tasting.
We have over 20 wines to choose from!
Saturday Tours
If you are interested in a Saturday Winery Tour, you can go ahead and book your date and time on our website as long as your visit is two months out. Tickets are posted 2 months in advance.
We offer Tours on Saturdays at 1:30 and 3:30. Learn more about our Winery Tours here.
Under 21 tickets can be purchased day of.
Appetizers
We have three delicious appetizers to choose from:
Southern Charcuterie, Hummus Plate and Artisanal Cheese Plate.
These are our standard appetizers we offer and we update them for the Spring/Summer
and Fall/Winter. Check out our Menu here.
NEW Group Wine Flights
We are excited to now offer Wine Flights and now booking group reservations for flights!
These are ideal for date night, to celebrate an anniversary or birthday or a fun girl's day!
Wine Flights includes a preset of any of our fantastic wines (1 dry, 1 semi-sweet, and 2 sweet).
You will also have a chance to add on chocolate and/or cheese pairings to enjoy with your wine flight! Group Flights would be booked and paid for in advance.
Learn more and book a reservation here!
We look forward to your visit!
Georgia Winery offers 5 complimentary tastings:
Monday- Saturday 10:30am- 8:00pm EST
Sunday 12:30pm- 8:00pm