6 Bottle Sweet Sampler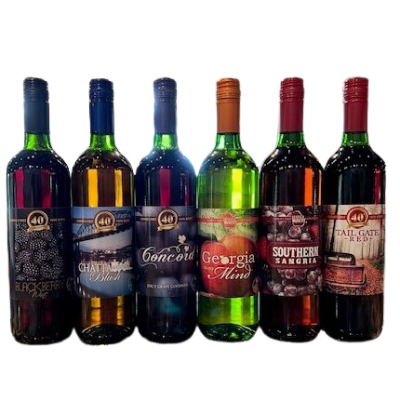 The Sweet Six sampler pack includes 6 Georgia Winery sweet wines. Georgia on My Mind, Chattanooga Blush, Blackberry, Tailgate Red, Southern Sangria and Concord.
If a wine is out of stock, it will be replaced by a similar variety.
The 5% discount has already been deducted from the price.
Product Reviews
Elizabeth
(Feb 5, 2017 at 11:00 AM)
Product came very quick. Gave bottles as gift. Everyone raved over quality and taste. I love this winery
Sheila McDowell
(May 26, 2018 at 5:07 AM)
I love this wine. It's not bitter, just smooth and sweet. Tried it on my new son-in-law who's in the Navy and he loved it also. He's been to Greece, Italy, Dubai, etc., but he said this was the best!
craig delaney
(Feb 6, 2021 at 8:37 AM)
wine is very good. shipping is high.
Deidra Wilson
(Jun 13, 2021 at 5:04 PM)
The taste is sweet but smooth.
Delores Demorrow
(Jul 30, 2022 at 7:10 AM)
Awesome