12 Bottle Sweet Sampler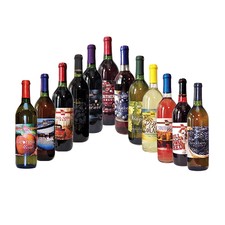 This 12 bottle sample pack includes 12 award-winning sweet wines including: Georgia on My Mind, Chattanooga Blush, Tailgate Red, Blackberry, Concord, Southern Sangria, Blueberry Blush, Niagara, Muscadine, Southern Blush, Bulldog Red, Blackberry Blush.
If a wine is out of stock, it will be replaced by a similar variety.
The 15% discount has already been deducted from the price.
Product Reviews
Davene Tanksley
(Nov 26, 2015 at 4:28 PM)
We have been making stops by this winery every year. Best wine I have ever tasted. Been to hundreds of wineries. Introduced to many friends. Now I have to tote their wine back to Texas, too.
Louise Simms
(Dec 25, 2015 at 7:11 PM)
Absolutely the best wine I have ever tasted. No winery comes close to this wonderful winery!
Matthew Durfee
(Dec 23, 2016 at 3:54 PM)
My wife and I stopped at Winery when we were on vacation. We really enjoyed visiting and we have been ordering wine ever since. I do recommend the sample pack by the case. I'm getting ready to order 2 more, after I finish this review.