Chef Basket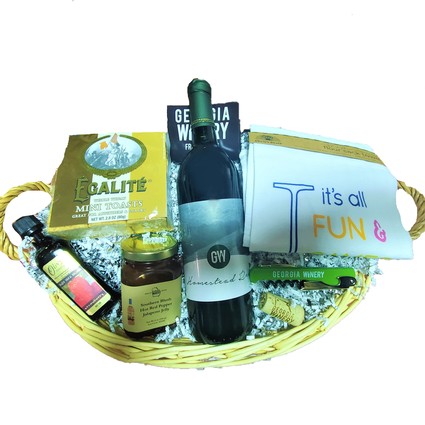 A gift perfect for the cook in your life! Featuring many items that complement most culinary creation, this basket also features a wine that is perfect for drinking, cooking, or drinking while cooking!
This gift basket includes 1 Homestead Red, Wine Infused Jam, Mini toast crackers, mini Maven Table balsamic and olive oil, Georgia Winery corkscrew, and a Wine Towel. Gift basket will be shrink wrapped. A similar replacement will be substituted in the event we run out of any of the items listed. Please note that wine towel design, wine jam and oil flavors will vary.
Homestead Red is a true dry red made with 100% DeChaunac grapes. Pair with steak, ribs, or lasagna.
Product Reviews