Sweet Southern Wine Basket 1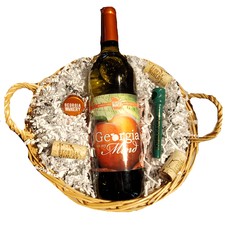 This Sweet Southern Wine Gift Basket features a bottle of one of our top selling wines, Georgia on My Mind! Georgia on my Mind features Juicy Peaches and white muscadines!
This basket also includes a wine jelly made with one of our wines! Wine Jelly assortment will vary. Gift basket will be shrink wrapped. Please note this basket no longer includes logo stopper or picnic corkscrew, but instead it includes a wine jelly.
Product Reviews