Scarlett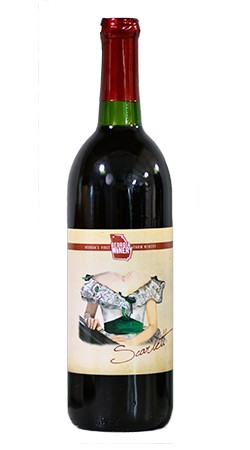 Wine Specs
Fermentation
Freeze Fermentation


A truly unique blend. Like Scarlett herself: Sassy yet demure; Bold yet delicate! This semi-sweet wine is sure to win your heart.
Enjoy chilled or at room temperature for a different tasting sensation- so makes it great for sweet and dry drinkers!
Comparable to sweeter Pinot Noir.
If you want to try something drier- try our Homestead Red which is made with 100% Dechaunac grapes while Scarlett is a blend.
Try with Scarlett or Cherry Slushy Mix!
Wine Specs
Fermentation
Freeze Fermentation
Wine Profile
Tasting Notes
Woody, fruity, biting, light, semi sweet. Sweet at the front with a smoky finish. Subtle raspberry notes.
Awards
Silver Medal Winner: 2014 Indy International Wine Competition 2008 Lone Star International Wine Competition 2014 Indy International Wine Competition 2007 Wines of the South Wine Competition 2004 Wines of the South Wine Competition 2002 Amenti Del Vino Wine Society Wine Competition 2002 Tasters Guild Consumer's Wine Competition 2001 Amenti Del Vino Wine Society Wine Competition 1999 Indiana International Wine Competition Bronze Medal Winner: 2010 Mid-Atlantic Southeastern Wine Competition 2010 Wines of the South Wine Competition 2004 Indiana International Wine Competition 2001 Indiana International Wine Competition 2000 American Wine Society Wine Competition 2000 Indiana International Wine Competition
Food Pairing Notes
Roast, lasagna, pizza, and spaghetti. Also pairs well with sharp yellow cheddar.
Product Reviews
Larry Newsome
(Mar 3, 2017 at 8:23 AM)
Excellent wine
Suzanne
(Jul 10, 2017 at 12:31 PM)
i normally don't like sweet but in the Summer when it's hot, this just hits the spot. Not too sweet and has more of a Blush taste to it.
Blaine Weat
(Apr 11, 2019 at 5:11 AM)
I am normally a white wine person, but Scarlet has changed my taste. She is my #1 wine of all times.
Tech_Bender
(Apr 25, 2021 at 7:58 PM)
My wife likes dry reds, and I usually like sweet wines like Moscato and Rieslings. Scarlet is a very rare wine that we both enjoy tremendously.
AJ
(May 6, 2023 at 8:27 PM)
This wine has a great taste with an even better finish. I loved how smooth it is, with a great long lasting impression compared to the other wines I tried here.