Muscadine Gold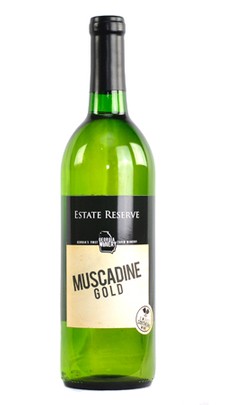 Wine Specs
Vineyard Designation
Georgia Winery
Fermentation
Freeze Fermentation

Created using our Grandfathers's cherished original family recipe, extraordinary Muscadine Gold is harvested from Georgia Winery's founding vines. Muscadine Gold is more than a superb Muscadine wine - it's a celebration of the Muscadine grape created to savor and share with others who covet its familiar sugary grape flavor, rich Southern Heritage, and unique Georgia Legacy.
Wine Specs
Vineyard Designation
Georgia Winery
Fermentation
Freeze Fermentation
Wine Profile
Tasting Notes
Unbelievably Smooth. Exceptionally Flavorful. Nurtured Naturally. Our Muscadine Gold is made from 100% Organically Grown Muscadines!
Awards
2010 Indy International Wine Competition: Silver Medal; 2010 Mid-Atlantic Southeastern Wine Competition: Bronze Medal; 2009 Mid-Atlantic Southeastern Wine Competition: Silver Medal
Product Reviews
Jeremy Dotson
(Aug 7, 2015 at 6:35 PM)
I have drank Muscadine wines from Virginia, Tennessee, North Carolina, and now several from Georgia. We were in Dahlonega for a weekend getaway recently. I have to say out of every white muscadine wine I have tried Georgia Winery Muscadine Gold comes closer than any other when it comes to capturing that true "Muscadine" taste. Call it whatever you want foxy, southern, I myself call it perfect. From bouquet to finish it is muscadine through and through. Thank you for trapping all of that flavor in a bottle!
Alison
(Jul 6, 2016 at 10:25 PM)
My first muscadine wine and I am now spoiled it is great! Amazingly smooth!
Natalie
(Jul 18, 2016 at 8:42 AM)
Love it! It's now my favorite wine!!
Beth
(Feb 28, 2017 at 4:28 PM)
Enjoyed the winery on Saturday morning and loved the Muscadine Gold wine.
LUCRETIA RITSERT
(May 17, 2020 at 12:40 PM)
I AM GLAD YOU SELL THIS WINE, I AM FROM VA. AND WE GROWN THOSE GRAPES FOR YEARS. THANKS