Georgia on my Mind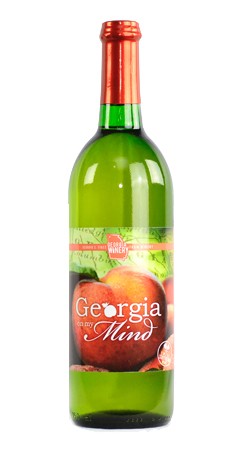 Wine Specs
Fermentation
Freeze Fermentation

A heavenly blend of two of Georgia's finest fruits, juicy white grapes and velvety peaches! Nurtured by the Georgia sun and hand-picked with Southern pride, the irresistibly enchanting wine is celebrated as Georgia Winery's most awarded wine. Referred to as "Summer in a Bottle"!
Pair with Hurricane or Margarita Slushy Mix!
Wine Specs
Fermentation
Freeze Fermentation
Wine Profile
Tasting Notes
Full peach, concentrated, sweet, slight Muscadine foxiness. A sensational blend of two of Georgia's finest fruits.
Awards
Our most awarded wine, Georgia on My Mind fully embodies the best of southern sweet wine. A southern classic with an ice wine style. Great dessert wine.
Food Pairing Notes
Pair with white chocolate or spicy foods!
Product Reviews
Kim
(Apr 18, 2016 at 6:21 PM)
This is a summer favorite. It has a wonderful peach flavor, just like a Georgia peach should! If you enjoy sweet, fruity wines, then this should be at the top of your list! Perfect for a hot summer night.
Rachel
(May 17, 2016 at 12:23 PM)
This has an excellent flavor. The Muscadine note comes in on the front end and then, where's the peach? BOOM, there it is. The peach flavor comes in at the end. A sweet and sassy wine. We purchased a bottle after a tasting at Rock City. Wish now I would have bought more. My new favorite!
Denise
(Jun 1, 2016 at 1:49 PM)
I normally don't like wine, but I Love this one. What a great flavor!!
Debi Lalonde
(Jun 2, 2016 at 12:17 PM)
Had some when I was there a few years ago....do you sell this wine in any retail outlets in the Lafayette ,Louisiana area?
Tina Joyner
(Sep 2, 2016 at 11:55 AM)
Coming thru the area again this weekend & my sister & I will be coming from Jasper, Ga to get some Georgia on my Mind!! Been hooked since it came out & I haven't been thru the area in a bit & I'm seriously in dire need! Nothing like it in my area of Mississippi.
LISA FAZIO
(Oct 11, 2016 at 4:53 PM)
I ordered this earlier this year and opened tonight. Simply amazing!!!!
Amanda lloyd
(Dec 23, 2016 at 10:53 AM)
I absolutely love love love this wine!!! It is my absolute favorite ♡♡♡
Audra
(Jan 28, 2017 at 4:27 PM)
Very sweet, I loved this wine when I was a bit younger, but nowadays it is just a bit too sweet for me. I guess my taste buds have just changed in my old age, because I don't care much for the sweeter things nowadays.
Rush
(Sep 18, 2017 at 6:14 PM)
Absolutely the best wine I have recently come across. Seems to be the perfect blend of fruits. Peach implemented into this wine was simply ingenious.
Rebecca
(Oct 24, 2017 at 1:30 PM)
My new favorite wine. Found it in Dahlonega, GA. Next time I'm in GA, I hope to get more. Love it!
Mike
(May 24, 2018 at 1:55 AM)
Like 1 of the other reviews, I don't like many wines but love this wine. I just wish I could find it in retail outlets in South Carolina. This is one of our favorite s. It is better than Biltmore wines which are too dry for me. This wine is just right.
Jeanne
(Jul 19, 2018 at 1:51 PM)
I tried this wine at Rock City. It's hard for me to find a wine I like. This wine is perfect for my tasting. I'm grateful you ship to my state!
Nina
(Sep 28, 2018 at 5:10 AM)
Very sweet, so it goes down easily and quickly...probably too quickly ;)
JENNIFER
(Mar 4, 2019 at 12:06 PM)
The best wine I have ever tasted and I have tasted a bunch!! If you like sweet wine, you should really give this wine a try!!
Shicann
(May 12, 2019 at 5:44 PM)
Taste like you're biting into a fresh sweet juicy Peach! One of my absolute favorites wines
Rebecca
(Dec 12, 2019 at 4:44 PM)
One of my top picks and favorites from Georgia Winery. Love the beginning of taste of Muscadine and the wonderful finish of Peaches. This is a sweet and wonderful wine.
Timar
(Mar 3, 2020 at 6:23 PM)
I'm not a huge wine person and if I do drink wine, it's white wine. This particular wine is my favorite! I was introduced to this wine in Chattanooga at Rock City when the wine first came out. I highly recommend.
Jessica
(Dec 30, 2020 at 8:34 AM)
Absolutely LOVE this Winery! This one though was to sweet for me, it did have an amazing Peach flavor to it but I did not end up buying this one because it is to sweet and leaves an after taste.
Annette Williams
(Jul 21, 2022 at 3:24 PM)
Very very good wine
Cathi
(Aug 20, 2022 at 6:21 PM)
This wine is fantastic!!!