Winery Tour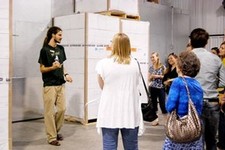 *Masks or facial coverings must be worn during the Tour.
Due to COVID: we are limiting number of guests per tour time. Tickets can be purchased at any time, but please call us the Saturday you plan on redeeming them with number of guests & what tour time you are interested in. We open at 10:30am Saturday and will begin taking calls then. Thanks!
Please select "pick up at Georgia Winery" instead of shipping Tour Tickets to your billing address- this will allow us to hold your Tour Ticket until you are ready to use it!
Please note if you want to gift Tour Tickets and are purchasing online, we do not mail tickets to the recipient. You can forward the emailed receipt to the recipient and they just need to state your name when redeeming.
Product Reviews
Michelle Smith
(May 16, 2017 at 6:48 PM)
My daughter lives in Chattanooga. We finally made it to the Georgia Winery on my visit a couple of weekends ago. It was amazing. From the wine tasting to the tour, we thoroughly enjoyed our visit. I highly recommend the Georgia Winery!