Local Basket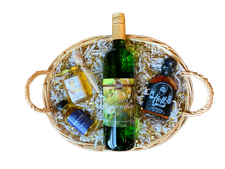 Whether you're passing through or we share a zip code, everyone is our neighbor here at The Georgia Winery! This basket was crafted with you in mind! Enjoy a variety of local favorites with this basket!
This basket includes a bottle of Muscadine, small local honey with dipper, mini Maven Table oil and a mini Hoff hot sauce.
Gift basket will be shrink wrapped and a bow added. A similar replacement will be substituted in the event we run out of any of the items listed. Please note flavors will vary.
Product Reviews