G-E-O-R-G-I-A Holiday Basket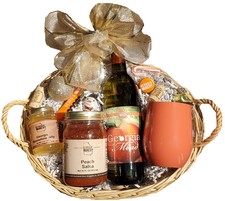 Featuring a few keepsakes from your Georgia Winery experience, this basket also features our top selling wine, Georgia On My Mind- a sweet blend of muscadines and velvety peaches! A peachy keen gift to give the sweetie in your life. Hey, they don't call us the Peach State for nothing!
This gift basket includes 1 Georgia On My Mind, mini GA moonshine jelly, Georgia Winery corkscrew, Georgia Winery stopper, Peach Sip 'n Go wine tumbler, large Peach salsa and an assortment of candy (chocolate and peppermint). Gift basket will be shrink wrapped and a bow added on top. Please note that the Christmas decor added will vary. A similar replacement will be subsituted in the event we run out of any of the items listed.