Rawlings Ruby Red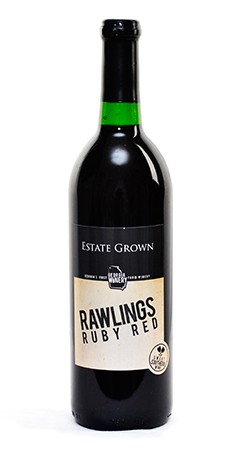 Wine Specs
Vineyard Designation
Georgia Winery
Harvest Date
October 2014
Fermentation
Freeze Fermentation

Enjoy our organically grown Red Muscadine wine. Named for our founder, Dr. Maurice S Rawlings, this wine is our special trademark. We are the only commercial growers of organic grapes in the state!
Wine Specs
Vineyard Designation
Georgia Winery
Harvest Date
October 2014
Fermentation
Freeze Fermentation
Wine Profile
Awards
Silver Medal Winner: 2014 Indy International Wine Competition
Product Reviews
Joseph
(Aug 13, 2015 at 1:54 PM)
This wine is apparently a miracle in a bottle! Health benefits include lowering blood pressure and cholesterol, cancer preventive, helps with arthritis, and a sleep aide. After that spill I told them I would take everything they had! Very delicious and sweet!
Judy
(Aug 28, 2015 at 12:40 PM)
My fav!