The Chef Holiday Basket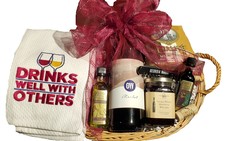 If we asked you to name a few famous chefs, could you do it? Well, now you can add your name to that list! This basket is perfect for that top chef in your life! Featuring many items that complement most culinary creation, this basket also features a wine that is perfect for drinking, cooking, or drinking while cooking!
This gift basket includes 1 Merlot, Blackberry Wine Infused Jam, Mini toast crackers, mini Olive Chattanooga Blackberry Aged Balsamic, Mini Olive Chattanooga Basil Infused Olive Oil, Georgia Winery corkscrew, Wine Towel, and an assortment of candy (chocolate and peppermint). Gift basket will be shrink wrapped and a bow added on top. Please note that the Christmas decor added will vary. A similar replacement will be subsituted in the event we run out of any of the items listed.