Sweet Southern Wine Basket 3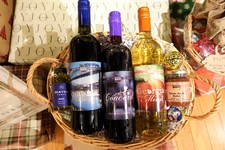 This Sweet Southern Wine Gift Basket features a bottle of 3 Top sellers: Georgia on My Mind, Concord and Chattanooga Blush, mini oil or cocktail mixer from Maven Table, a mini jelly and a logo waiter corkscrew. Oils and jelly flavors will vary. Basket includes chocolate and peppermint candy and Christmas decor.
Gift basket will be shrink wrapped and a bow added. A similar replacement will be substituted in the event we run out of any of the items listed.
Product Reviews