Farmhouse Holiday Basket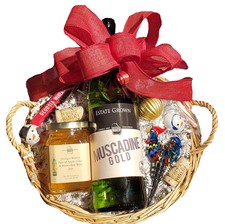 This basket is perfectly prepared featuring our Estate Wine, Muscadine Gold. This wine contains organically grown muscadines from our Farm to yours! We have a feelin' you'll be enjoying this one 'till the cows come home!
The Farmhouse Gift Basket features a bottle of Muscadine Gold, Georgia Winery corkscrew, Spiced Apple and Mucadine wine jelly, glass rooster stopper and an assortment of candy (chocolate and peppermint). Please note that the Christmas decor added will vary. Gift basket will be shrink wrapped and a bow added on top. A similar replacement will be subsituted in the event we run out of any of the items listed.