3 Bottle Holiday Basket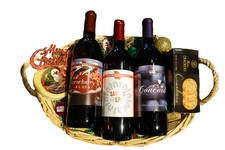 This Sweet Southern Wine Gift Basket features a bottle of 2 Favorites and a Holiday blend: Santa's Helper, Concord and Cranberry Blush, Georgia Winery stopper, water crackers, unrefrigerated cheese, and an assortment of candy (chocolate and peppermint). Please note that the Christmas decor added will vary. Gift basket will be shrink wrapped and a bow added.
A similar replacement will be substituted in the event we run out of any of the items listed. If we run out of any of the wines included, a wine or equal or lesser value will be substituted.