Southern Blush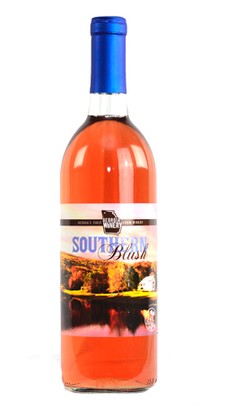 This sweet and spicy Southern classic is the perfect vintage to leisurely sip on the front porch during a warm summer night. Uncork a bottle and transport yourself below the Mason Dixon line.
$1 from each bottle sold in October will be donated to the American Cancer Society in making strides against breast cancer in honor of Dr. Maurice Rawlings, one of the real men who wear pink.
Wine Profile
Tasting Notes
Juicy, biting, spicy, crisp, slight floral, sweet, full-flavor. An upgraded version of "White Zin", only 10 times better!
Awards
Gold Medal Winner: 2006 Wines of the South Regional Wine Competition 2002 The New World Masters of Wine Great American Wine Competition Silver Medal Winner: 2010 Indiana International Wine Competition 2010 Wines of the South Regional Wine Competition 2009 Wines of the South Regional Wine Competition 2008 Wines of the South Regional Wine Competition 2008 Lone Star International Wine Competition 2004 Indiana International Wine Competition 2004 Wines of the South Regional Wine Competition 2003 Wines of the South Regional Wine Competition 2002 Indiana International Wine Competition 2002 Lone Star International Wine Competition 2001 Indiana International Wine Competition 2000 Indiana International Wine Competition Bronze Medal Winner: 2011 Wines of the South Regional Wine Competition 2010 Mid-Atlantic Southeastern Wine Competition 2009 Indiana International Wine Competition 2008 Florida State Fair International Wine Competition 2002 Amenti Del Vino International Wine Competition 2001 Tasters Guild Consumer's Wine Competition 2001 Amenti Del Vino International Wine Competition 2000 American Wine Society Wine Competition 1999 American Wine Society Wine Competition 1999 Indiana International Wine Competition 1998 American Wine Society Wine Competition 1997 Indiana International Wine Competition